Looking for love in all the wrong places? Well, buckle up, because we're about to dive headfirst into the wild world of FarmersOnly – where country bumpkins and city slickers collide! Now, before you go rolling your eyes and thinking this is just another ho-hum dating site review, hold on a minute. Have you ever wondered if there's more to these niche platforms than meets the eye? Could FarmersOnly be the hidden gem that connects hearts across vast cornfields and cow pastures?
Keep reading as we take a ride through scenic landscapes of romance, laughter, and possibly even some yeehaw-ing. So grab your cowboy hat (or hey, even your Stetson) as we lasso our way into discovering if FarmersOnly truly lives up to its catchy jingle: "You don't have to be lonely at FarmersOnly.com!" Y'all ready for this boot-scootin' adventure? Then let's giddy-up!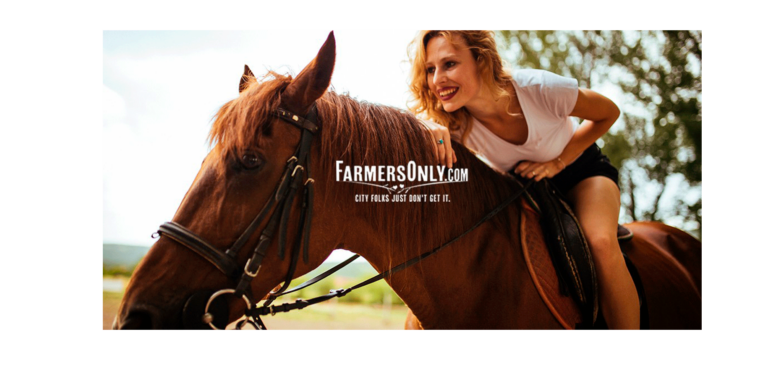 Pros & Cons
Pros
– FarmersOnly is a fantastic dating site for people who love the country life and want to meet someone with similar interests.
– Unlike many other online dating sites, FarmersOnly has a specific niche that caters exclusively to farmers and rural dwellers, making it easier to find like-minded individuals.
– According to customer reviews, FarmersOnly stands out as a reliable and good dating site in comparison to other sites that often feel too generic or lack a community vibe.
– Other users praise the farmersonly website for its authenticity, claiming there are fewer fake profiles than on other dating sites.
– If you're tired of scrolling through endless profiles that have nothing in common with your lifestyle, FarmersOnly might be the perfect solution for finding potential partners within your farming community.
Cons
– The farmersonly website is pretty basic and lacks the fancy features that other dating sites have.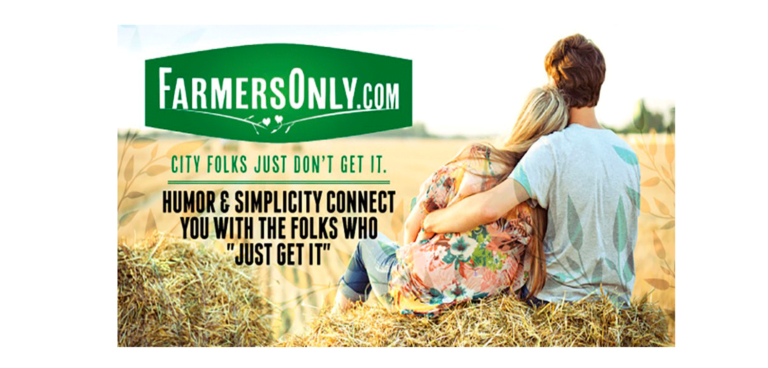 FarmersOnly features
FarmersOnly offers both free and paid features to its members. Free members have access to basic functionalities such as creating a profile, browsing other profiles, and receiving messages from premium members. However, in order to fully unlock the potential of this platform, users can upgrade their membership to enjoy the benefits of gold status.
One unique feature offered by FarmersOnly is the option for premium members to become gold status members. This allows them to send unlimited messages to other users on the site, regardless of their membership type.
Being able to freely communicate with any member enhances the chances of finding a compatible match and establishing meaningful connections within the farming community.
In addition to these features, FarmersOnly provides various tools and options for personalized member search. Users can filter search results based on different criteria such as age range, location, interests, and more. This makes it easier for individuals looking for specific qualities or shared values among farmersonly media directories.
To further enhance accessibility, Farmersonly also offers a mobile app that enables seamless navigation and interaction through smartphones and tablets.
With the convenience of being able to connect with fellow farmers anytime and anywhere, this app ensures that user's dating experience is not limited by geographical constraints.
Overall, FarmersOnly presents a wide array of features designed specifically for farmers and those interested in rural life. By providing ample options for communication and thorough member search capabilities, this platform ensures that premium members have all they need at their fingertips to connect with like-minded individuals within the farming community
FarmersOnly caters specifically to farmers and rural singles, connecting farmersonly members.
The platform offers both free and premium memberships for its users.
By upgrading to a gold status or premium membership, users gain access to exclusive features and benefits.
FarmersOnly has its own media content, allowing users to engage with farmersonly media.
A mobile app is available for farmersonly members, offering convenient access to the platform's features including member search.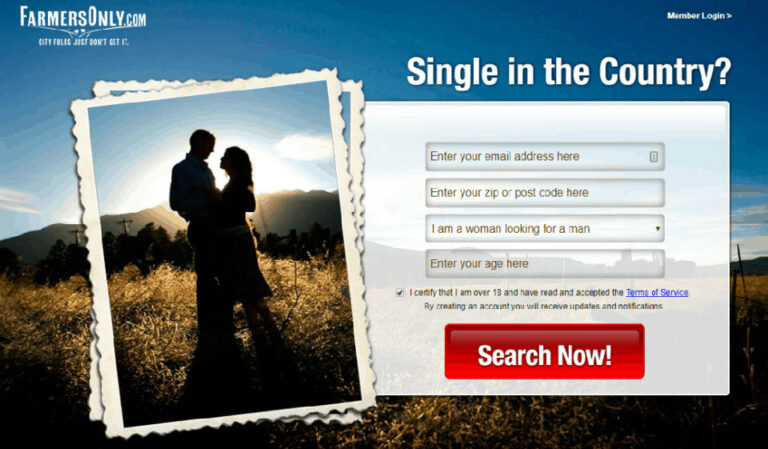 Who's on FarmersOnly?
FarmersOnly primarily targets a specific demographic, namely individuals involved in the farming and rural community. This niche dating website caters to those who live in rural areas or have a connection to agriculture. The emphasis is on bringing together like-minded people who share similar interests, values, and lifestyle choices rooted in rural living.
While FarmersOnly does not openly disclose the average age of its users, it predominantly attracts individuals from their late 20s to early 60s.
However, there is also a substantial presence of older farmers seeking companionship. The platform serves as a meeting place for all generations within the farming community.
The majority of users on FarmersOnly are searching for long-term relationships rather than casual hookups. The site promotes meaningful connections built upon shared experiences and common ground found among farm folks.
While some may be looking for friendship or companionship initially, many aspire to find lasting love and commitment through this platform.
Although originally established in the United States, FarmersOnly has gained significant popularity worldwide amongst farmers and rural dwellers alike. Despite its name suggesting an exclusive focus on American users, FarmersOnly has expanded beyond borders with members hailing from various countries around the globe. Its reach continues to grow as more agricultural enthusiasts join the online dating sphere seeking romance amidst country life's charm.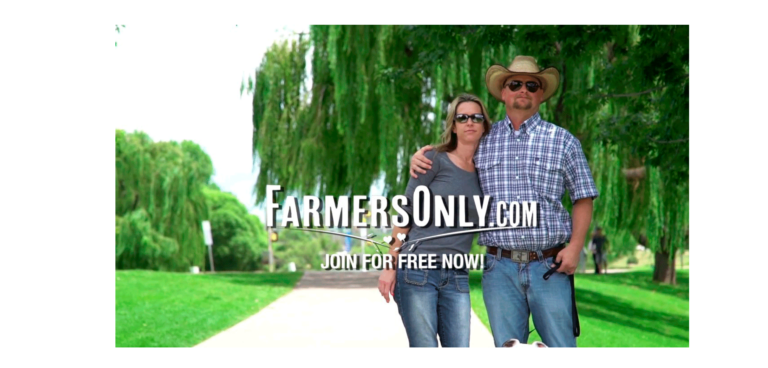 User Profiles
User profiles on FarmersOnly are public and can be viewed by other members of the dating website. When you create a profile, it becomes searchable by other users who are looking for potential matches. The profiles are detailed and customizable in order to provide users with enough information to make informed decisions.
In terms of personalization, FarmersOnly allows its users to set a custom bio where they can write about themselves and their interests. This offers individuals the opportunity to showcase their personality and share more about what makes them unique. Members can also include relevant details such as their age, gender, occupation, and hobbies.
Location information is displayed on user profiles in order to help facilitate connections between farmers who live relatively close to each other.
However, if someone prefers not to disclose their exact location or wishes to hide this information due to privacy concerns, FarmersOnly does grant the option of keeping that data hidden.
FarmersOnly provides an indication of the distance between users through its search filters and matchmaking algorithm. This feature helps ensure that potentially compatible matches are within reasonable proximity of each other, which may be particularly important for farmers living in rural areas.
Having a premium subscription on FarmersOnly comes with several benefits for profile holders. Premium subscribers receive enhanced visibility on the platform's search results since their profiles get prioritized over non-paying members' profiles. Moreover, they have access to additional features like unlimited messaging options and advanced search criteria.
As with any online platform, there is always some risk associated with fake profiles.
While FarmersOnly takes measures to verify the authenticity of its users during registration, it is impossible for any website or app to completely eliminate the possibility of encountering fraudulent accounts. It is recommended that individuals exercise caution when interacting with others online and report any suspicious activity they come across.
To prioritize user privacy and safety, FarmersOnly offers various profile privacy settings. Users have control over how much information they want to display publicly on their profiles and can choose whether certain details, such as their location or contact information, are visible to others. Additionally, FarmersOnly provides the option to sign in using Google or Facebook accounts for added convenience and security measures.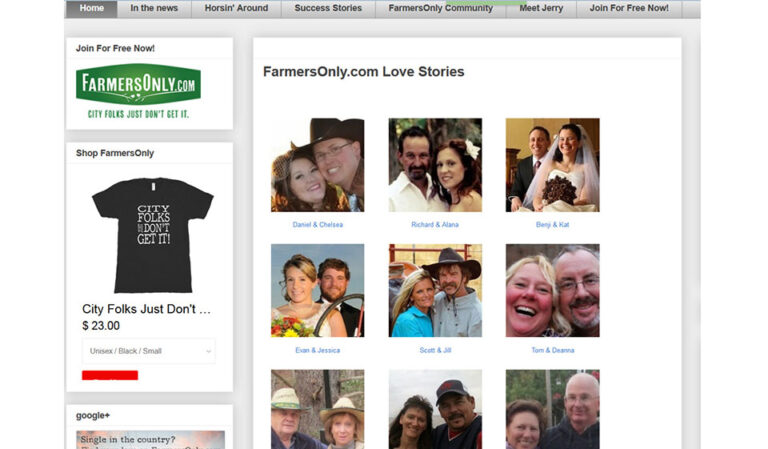 Design & Usability
The design and colors of FarmersOnly have been carefully selected to create a visually appealing website that captures the essence of rural life. The muted earth tones, such as warm browns and greens, evoke a sense of warmth, simplicity, and nature. These color choices not only reflect the brand's identity but also contribute to an atmosphere that resonates with its target audience—the farming community.
In terms of usability, FarmersOnly ensures a seamless user experience by implementing a clean and intuitive interface. Navigating through the site is straightforward, with clearly labeled tabs and menus offering easy access to different features and sections.
The layout is well-organized, featuring neatly arranged profile cards that showcase members' pictures along with concise information about their interests and backgrounds.
Registering on FarmersOnly is hassle-free; users can quickly sign up or log in using their Facebook accounts or opt for traditional email registration. Once logged in, finding potential matches becomes effortless due to efficient search filters like age range, location proximity, hobbies, preferred partner characteristics, etc. This enables users to refine results based on their specific requirements while saving time.
FarmersOnly emphasizes ease of use when it comes to communication tools as well. A messaging system allows members to connect instantly without unnecessarily complex features or convoluted interfaces.
Moreover, navigation icons are strategically placed throughout the platform for smooth interaction at every step.
For increased functionality beyond what's available in the free version of FarmersOnly, a paid subscription unlocks additional UI improvements tailored for enhanced user experience. Subscribers gain access to advanced search options—such as filtering by body type or education level—that provide more precise matchmaking possibilities based on personal preferences.
In conclusion, FarmersOnly seamlessly combines inviting color schemes with an intuitive interface design that facilitates an enjoyable browsing experience for its target agricultural demographic. While ensuring usability and straightforwardness across all aspects of navigating the site—from registration to communication—the option to upgrade further refines the user journey through added UI enhancements.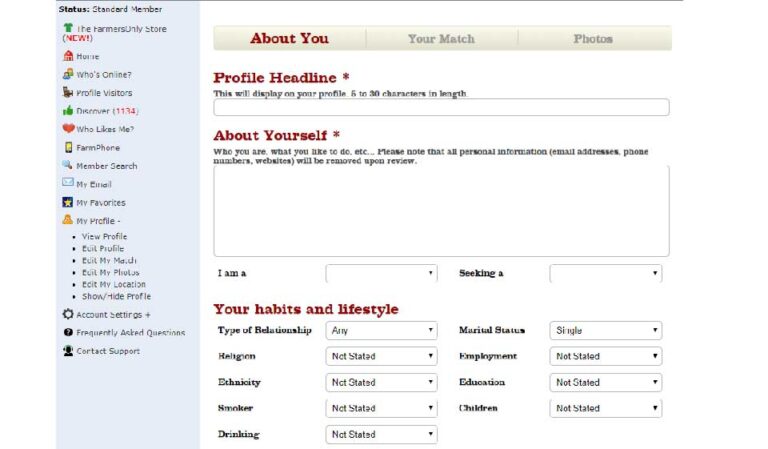 MobileApp
FarmersOnly does have a mobile app available for users. The app, which is compatible with both iOS and Android devices, allows farmers to easily access the platform while on the go. It provides a convenient way for members to connect with other like-minded individuals in their local area, allowing them to find potential matches without having to be tied down to a computer.
One of the main advantages of the FarmersOnly mobile app is its convenience. Users can log in and browse profiles at any time and from anywhere, making it easier than ever for rural dwellers to find love or friendship within their community. The app also includes all the features available on the website, such as messaging capabilities and profile customization options.
Another advantage of using the FarmersOnly app is its user-friendly interface. The design is simple yet visually appealing, making it easy for even less tech-savvy individuals to navigate through different sections effortlessly. Users can quickly edit their profiles, search for matches based on specific criteria, and communicate with others seamlessly.
Furthermore, the FarmersOnly mobile app offers push notifications that keep users updated about new messages or matches they may have received. This feature ensures that members never miss out on important interactions or potential connections while they are away from their computers.
However, it's worth noting that there are some limitations to using the FarmersOnly mobile app.
Firstly, unlike some dating apps which offer a swiping method for matching with others quickly, FarmersOnly relies more on traditional search filters and browsing profiles manually. While this approach allows users to carefully consider each potential match before reaching out, it may require more time and effort compared to other platforms.
Additionally, while downloading the FarmersOnly app itself is free of charge and easy enough via respective app stores (iOS App Store or Google Play Store), accessing certain advanced features within the app often requires an upgrade to a premium membership level which comes at an additional cost.
In conclusion, FarmerOnly offers its users a convenient, user-friendly mobile app that allows farmers to connect with other like-minded individuals in their local area. While the app may have certain limitations compared to other dating platforms, such as the lack of swiping feature and potential additional costs for premium features, it remains an invaluable tool for those seeking love or companionship within the farming community.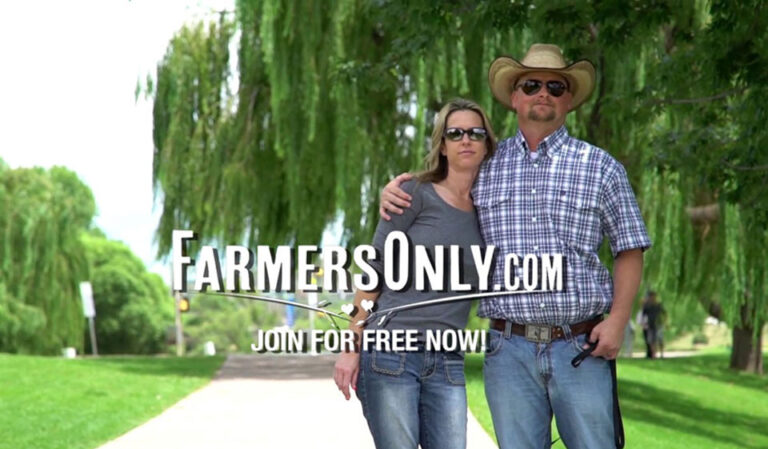 What Makes FarmersOnly Worth Trying
FarmersOnly is an amazing website specifically designed for individuals seeking serious relationships within the farming community.

This niche focus sets FarmersOnly apart from other general dating sites and apps, providing a platform exclusively for those interested in farm life and agriculture.

The site offers an easy-to-navigate interface with user-friendly features.

Unlike complex and overwhelming platforms, FarmersOnly provides a simple and intuitive design making it accessible to users of all technical backgrounds.

FarmersOnly emphasizes excellent customer support through their dedicated customer support page.

This feature distinguishes FarmersOnly by ensuring prompt assistance and timely resolution of any queries or concerns.

The site values fostering connections beyond romantic relationships and offers support services.

FarmersOnly recognizes that farmers often share unique lifestyle challenges, and their support services foster a sense of community among users and provide resources for addressing specific agricultural needs.

FarmersOnly maintains strong relationships with business partners who complement and enhance their services.

By collaborating with like-minded organizations, FarmersOnly expands their reach and delivers added value to users through mutually beneficial partnerships.

Users can easily contact FarmersOnly for any inquiries or assistance through their designated contact channels.

The accessibility of reliable customer support channels demonstrates FarmersOnly's commitment to delivering satisfactory experiences for its users and ensuring open communication.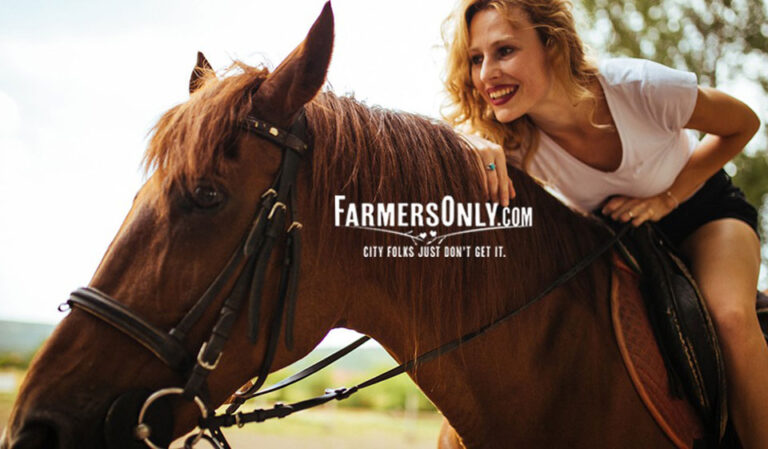 Similar Sites & Apps
While FarmersOnly is a popular niche dating site for farmers, there are also other online dating sites catering to different interests and demographics. These alternative platforms provide a wider range of options for users seeking romance, making it beneficial to explore other sites or dating apps beyond just FarmersOnly.
Tinder: One of the most popular dating apps with a large user base. Its swiping feature allows individuals to match and connect with other users.
OkCupid: Another well-known dating app that uses algorithms to match users based on their preferences, interests, and values. It offers various communication features for connecting with other members.
Match.com: One of the oldest and most successful online dating sites, Match.com provides a platform for singles to meet and build relationships. It utilizes a detailed profile system to help users find compatible matches.
Bumble: Similar to Tinder, Bumble is a dating app where users can swipe through profiles. However, it differentiates itself by putting women in control as only they can initiate conversations after a match is made.
Plenty of Fish (POF): POF is an online dating site that offers a wide range of features to connect and communicate with other users. It has a large user base and provides free messaging options unlike some other sites.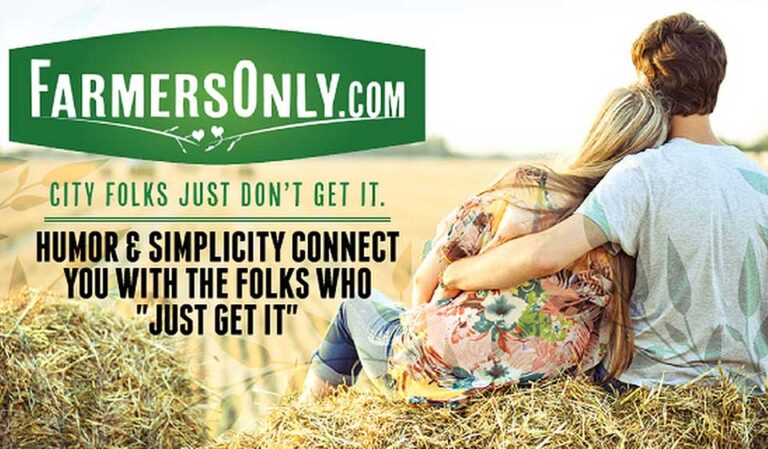 How Does FarmersOnly Work?
FarmersOnly is an online dating platform that caters specifically to farmers and rural singles looking for love. With its catchy slogan, "City folks just don't get it," FarmersOnly has successfully created a niche space in the crowded dating app market.
Founded in 2005 by farm owner Jerry Miller, FarmersOnly aimed to connect individuals who share a deep passion for agriculture and the country lifestyle. Miller himself faced the challenges of finding someone with similar interests while living on a farm, which inspired him to create this unique platform. Today, FarmersOnly is owned by Farmers Insurance Exchange and operates under Farmersonly Media Inc.
The registration process on FarmersOnly is relatively simple and straightforward. Users are required to provide basic information such as their gender, age, location, email address, and desired username/password combination.
Once registered, users can immediately start creating their profile by adding details about themselves and uploading photos that showcase their daily farm life or rural experiences.
Profiles on FarmersOnly vary widely but predominantly consist of farmers, ranchers, cowboys/cowgirls, agricultural workers, and others who embrace the rural way of life. The platform attracts individuals from all over the United States and Canada.
One key feature of FarmersOnly is its comprehensive search functionality. Users can filter potential matches based on various criteria such as age range, distance from their location,
and specific interests related to farming or outdoor activities. This allows members to find like-minded individuals who understand and appreciate their way of life.
In addition to searching for compatible partners manually, FarmersOnly also offers a "Discover" feature that presents suggested matches based on user preferences and compatibility algorithms.
To enhance communication between members on the platform, FarmersOnly provides tools like messaging systems and live chat rooms where users can engage in real-time conversations with potential matches before deciding whether to connect offline.
Support services are an integral part of how FarmersOnly operates. They have both email support available through their website and a dedicated customer service team that is available by phone to address user concerns or provide assistance.
In conclusion, FarmersOnly is a unique dating platform designed specifically for farmers and rural singles who seek meaningful connections with individuals sharing their lifestyle. With its simple registration process, diverse user base, advanced search features, and comprehensive support services, FarmersOnly has successfully created a digital space where these individuals can find love and companionship while navigating the challenges of farming life.
Searching, Filters and Communications
Have you ever wondered how the search, filters, and communication features on FarmersOnly work? In this section, we will explore these functionalities provided by Farmersonly Media Inc., a platform exclusively catering to farmers and rural residents. We will also delve into the registration process and learn about the support services available to users throughout their entire journey on the website.
FarmersOnly offers a straightforward registration process to ensure easy access for new members.
The support services offered by FarmersOnly work diligently to assist users in resolving any issues or concerns they may encounter.
Support services provided by FarmersOnly are readily available to cater to the needs and queries of its community members.
Farmersonly Media Inc, the entity behind FarmersOnly, continuously strives to enhance the platform's usability and communication features to facilitate farmer-to-farmer connections.
By utilizing the communication tools on FarmersOnly, members can connect with like-minded individuals who share a passion for farming and rural life.
Making contact on FarmersOnly is easy thanks to the various search options and filters available to users. After completing a simple registration process, users can specify their preferences in terms of age range, location, interests, and even specific agricultural activities. This ensures that they find people who share similar lifestyles or values. Once potential matches are identified, users can initiate communication through messaging features provided by FarmersOnly media inc. In case any assistance is required during the process, support services are readily available to help users navigate the platform smoothly.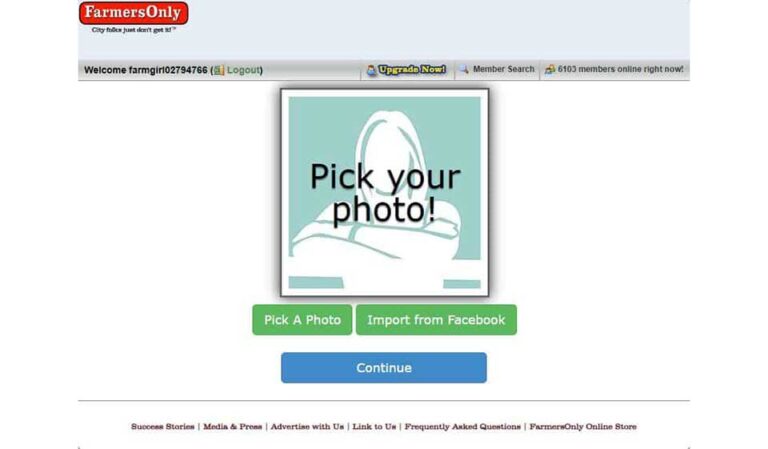 Signing up
The registration process on FarmersOnly is simple and straightforward, allowing individuals who meet the minimum age requirement to create an account. To begin the registration process, users can access the FarmersOnly website or download the FarmersOnly app from either the Apple App Store or Google Play Store.
To register on FarmersOnly, users must be at least 18 years old. This age requirement ensures that all members are legal adults capable of making their own decisions regarding online dating. It also helps maintain a safe and secure environment for everyone on the platform.
Once you've reached the FarmersOnly homepage or opened the app, you will find a prominent "Sign Up" button visible, directing you towards creating an account.
Clicking this button will initiate the registration process. You'll then be required to provide some basic information about yourself so that other members can get to know you better.
During registration on FarmersOnly, you'll need to input your gender and preference in terms of who you're interested in meeting—whether it's males or females. Next, fill out details such as your zip code and email address where verification emails will be sent.
After inputting these initial pieces of information, choose a memorable username that will represent your identity within the community. Remember to choose something appropriate and respectful since your username will become how other members recognize and communicate with you.
Next comes perhaps one of the most essential elements: choosing a strong password that provides sufficient security for your account while ensuring it remains easy for you to remember securely.
In addition to providing general personal information during farmers only sign up process like name, date of birth etc, completing profile details such as height, body type, education level may further enhance your chances of finding suitable connections among fellow farmers or country-loving singles.
Though basic membership on FarmersOnly is free-of-charge, there are optional subscription plans available that unlock additional features allowing more efficient communication and interaction with potential matches.
Overall, registering on FarmersOnly is a fairly quick and simple process that involves providing basic personal information, choosing a username, password, and fully completing your profile. Once the registration process is completed, you can start exploring potential matches and begin your journey towards finding companionship on FarmersOnly!
Registration process on FarmersOnly:

Visit the official FarmersOnly website.
Click on the "Sign Up" or "Register" button.
Provide a valid email address for account verification.
Create a unique username and password.
Fill in personal details such as name, age, gender, location, etc.
Specify farming-related information, such as occupation, farm size, livestock, crops, etc.
Upload a profile photo that represents your farming lifestyle.
Agree to the terms and conditions of using the FarmersOnly app.
Note: The FarmersOnly registration process may slightly vary depending on updates to the platform.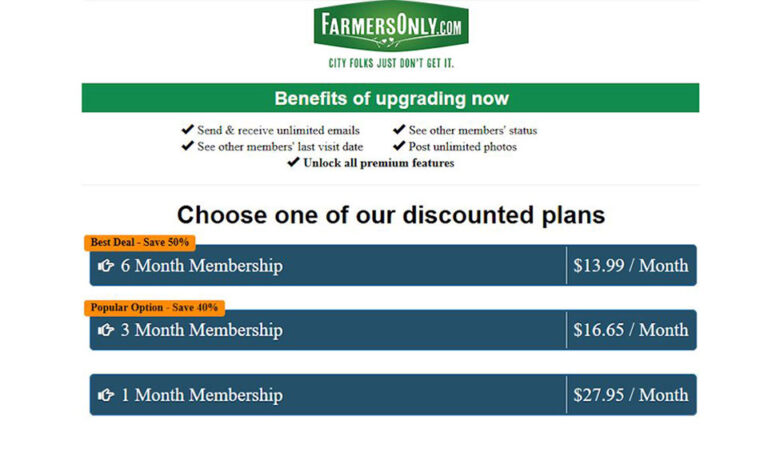 Security & Safety
Safety and security are of paramount importance when it comes to online dating platforms. FarmersOnly, a popular niche dating website catering to farmers and rural singles, recognizes this significance and takes various measures to ensure a safe and secure environment for its users.
To begin with, FarmersOnly employs user verification methods to confirm the authenticity of profiles. This helps in reducing the presence of fake accounts on the platform. While it doesn't explicitly state if there is a verification process during registration, numerous testimonials from satisfied users attest to the legitimacy of profiles on FarmersOnly.
Furthermore, this platform actively fights against bots and fake accounts by implementing advanced security features. It utilizes automated systems that detect suspicious behavior patterns and promptly take action against any fraudulent activity detected. The focus on maintaining the integrity of user accounts enhances safety and promotes genuine connections among members.
FarmersOnly also offers an additional layer of protection through two-step verification. Utilizing this feature allows users to secure their account further by requiring them to enter a unique code sent via SMS or email during login attempts. This aspect adds an extra level of assurance, ensuring that only authorized individuals can access their respective profiles.
In terms of photo review processes, FarmersOnly manually reviews all uploaded photos before making them publicly visible within member profiles. This meticulous approach guarantees that inappropriate or offensive content does not make its way onto the site. Consequently, users can confidently browse through pictures, knowing they will encounter appropriate imagery while exploring potential matches.
Moreover, FarmersOnly prioritizes user privacy by adhering strictly to its comprehensive privacy policy. The platform pledges not to share personal information provided during profile creation with any third parties without consent from individual members involved.
Such transparency concerning data handling cultivates trust among users who value their privacy in the online realm.
While FarmersOnly has implemented commendable safeguards for its community, certain areas could be improved in terms of safety and security practices as well. For instance, offering more transparent information regarding user verification procedures during registration would enhance credibility and instill greater confidence among prospective members.
In conclusion, FarmersOnly demonstrates a strong commitment to the safety and security of its users. It employs verification methods, combats bots and fake accounts, and offers two-step verification for added protection. The platform's manual photo review process ensures appropriate content is displayed while maintaining user privacy through compliance with a stringent privacy policy. By addressing areas that can be strengthened further, FarmersOnly has the potential to continually improve upon its already solid foundations of ensuring a safe and secure environment for agricultural singles seeking love.
Help & Support
FarmersOnly provides various channels for its users to access support promptly. To begin with, FarmersOnly has a well-organized and user-friendly support page on their website. This page serves as the central hub for users seeking assistance or information regarding any aspect of the platform.
Upon accessing the FarmersOnly support page, users are presented with several options to connect with support representatives. One option is to submit an inquiry through their email system. By simply composing an email detailing their concerns or queries, users can expect a timely response from the FarmersOnly support team.
Additionally, FarmersOnly understands that direct communication can sometimes be more effective in resolving issues promptly.
Therefore, they offer a dedicated phone line for users who prefer speaking directly with a representative over the phone. Whether it's addressing account-related problems or seeking advice on using certain features, users have the opportunity to obtain personalized assistance when needed.
When it comes to response time, FarmersOnly strives to ensure promptness in addressing user inquiries. While exact response times may vary depending on the volume of requests received at any given time, in general terms, most inquiries receive initial responses within 24 hours during weekdays. However, it should be noted that weekends and holidays might experience slightly longer response times due to reduced operational hours.
In order to further assist its users without needing direct contact with customer support every time they encounter common questions or issues, FarmersOnly also provides an extensive Frequently Asked Questions (FAQ) section on their website. The FAQ covers various topics such as troubleshooting common technical problems, managing subscriptions and payments, privacy concerns, and profile optimization tips.
Comparing FarmersOnly's support offerings to alternative platforms catering specifically to farmers and rural communities reveals several advantages. Unlike some competitors who lack dedicated customer service channels altogether or rely solely on automated responses via chatbots or self-help forums, FarmersOnly offers both email-based communication and telephone accessibility allowing for personalized interaction between customers and trained representatives.
Furthermore, while many competitors provide customer support, FarmersOnly stands out with its comprehensive FAQ section. This extensive resource covers a wide range of topics, reducing the need for users to reach out to support for common inquiries.
Overall, whether through their well-structured support page offering multiple contact options, prompt response times during weekdays, or an informative FAQ section, FarmersOnly demonstrates a commitment to assisting users effectively and efficiently.
Pricing & Premium Membership on FarmersOnly
Getting a paid subscription for FarmersOnly brings numerous benefits to users. With a premium membership, individuals gain access to exclusive features and functionalities that enhance their online dating experience. The pricing of FarmersOnly is competitive compared to other options available in the market.
While it is possible to use FarmersOnly without paying, the free version has limited capabilities. Users who opt for the free version may find themselves missing out on valuable features that could potentially increase their chances of connecting with other members.
FarmersOnly offers different payment methods to cater to various preferences. Members can choose to pay via credit card or PayPal, providing convenient options for both online and offline transactions. This flexibility ensures that individuals can easily subscribe and explore the benefits of becoming a gold status member.
By subscribing as a premium member on FarmersOnly, users unlock an array of enhanced features designed specifically for those seeking meaningful connections within the farming community. Additionally, this status signifies support towards Farmersonly Media Inc.
, allowing them to continue improving and maintaining their platform's quality.
Overall, investing in a premium membership on FarmersOnly opens up opportunities that are not available through its free counterpart. Choosing this option grants users access to advanced tools while supporting the development and growth efforts of Farmersonly Media Inc.
Subscription Option
Price (USD)
Features
One-Month Premium Membership
$21.95
– Send unlimited messages
– Access advanced search options
– Boosted profile visibility
Three-Month Premium Membership
$39.95
– Send unlimited messages
– Access advanced search options
– Boosted profile visibility
Six-Month Premium Membership
$65.95
– Send unlimited messages
– Access advanced search options
– Boosted profile visibility
One-Month Gold Status Membership
$29.95
– All features of Premium Membership
– Stand out with gold status badge
– See who has viewed your profile
– Receive priority customer support
Three-Month Gold Status Membership
$59.95
– All features of Premium Membership
– Stand out with gold status badge
– See who has viewed your profile
– Receive priority customer support
Six-Month Gold Status Membership
$95.95
– All features of Premium Membership
– Stand out with gold status badge
– See who has viewed your profile
– Receive priority customer support
Q&A
1. What payment methods does FarmersOnly accept?
FarmersOnly accepts various payment methods to cater to their premium and gold status members. If you need help with payment or have any other questions, check out their customer support page for assistance. Contact FarmersOnly's support services directly if you require further help in resolving any issues related to payments or your membership.
2. Can you delete your FarmersOnly account?
Yeah, you can totally delete your FarmersOnly account! Whether you're just a regular member or even a premium gold status member, they've got your back. Just head over to their customer support page and use their fantastic support services to contact FarmersOnly directly – easy peasy!
3. How much does FarmersOnly subscription cost?
FarmersOnly offers different subscription options for their premium members, including the gold status membership. The exact cost may vary depending on your location and the duration of your membership. If you have any specific pricing inquiries or need assistance with subscriptions, you can always check out their customer support page or contact FarmersOnly directly.
4. How can I know that the profiles on FarmersOnly are real?
Hey there! Rest assured, FarmersOnly takes profile authenticity seriously. By becoming a premium member or attaining gold status member, you'll have access to additional verification features and can connect with like-minded individuals who are also serious about finding love in rural areas. If you ever suspect any fake profiles or need further assistance, their excellent customer support page has got your back – just reach out to them through the contact form provided on farmersonly.com.
5. Is FarmersOnly any good?
FarmersOnly is totally worth it! As a premium member with gold status, I found their customer support page to be super helpful whenever I needed assistance. Their support services work like a charm and contacting FarmersOnly was a breeze when I had questions or concerns.
6. Is FarmersOnly working and can you find someone there?
Oh man, if you're looking for love in the countryside, FarmersOnly is where it's at! As a premium member with gold status on this site, I can proudly say that it definitely works. Their customer support page is amazing too – their support services actually work and you can easily contact them to solve any issues. So go ahead and give Farmersonly a shot – you might just find your farming soulmate there!
7. How to cancel subscription on FarmersOnly?
Hey there! If you've decided to ride off into the sunset solo, cancelling your FarmersOnly subscription is pretty simple. Just head over to their customer support page where their amazing support services work wonders. You can easily contact FarmersOnly and let them know whether you're a premium member or have that fancy gold status membership, and they'll handle everything for ya!
Conclusion
In conclusion, FarmersOnly serves as a unique and specialized online dating platform catering specifically to individuals in the agricultural industry. With its straightforward interface and emphasis on rural values, this website offers a convenient way for farmers and countryside dwellers to connect and potentially find love or companionship. The platform's key features, such as customized search filters based on specific farming interests, allow users to narrow down their options efficiently.
While it may not have all the bells and whistles of mainstream dating sites, FarmersOnly effectively caters to a niche audience with its focus on shared agricultural lifestyles. Whether you are seeking a romantic relationship or simply looking for like-minded individuals who understand your rural lifestyle, FarmersOnly presents an ideal avenue for connecting with compatible matches within the farming community.